UX Competitive analysis is one of the most reliable and effective user experience analysis methods.
It can benefit the design of any product or service. If it is conducted while keeping the needs and goals of customers and company in mind.
This analysis helps you identify areas in your UI UX web design where you may innovate and identify aspects you should avoid.
It is crucial to perform a competitive UX analysis if you want to gain evidence that will help you and your business.
What is UX Competitive Analysis?
Competitive analysis is a method to determine how your brand, products, or services stack up against your competitors.
Comparing your brand, service, and product knowledge with the competitor and observing what they do will help you understand what can be enhanced and where you can stand out in the competition.
Additionally, it also helps us to find out the opportunities and pitfalls to strategically design a solution and transform our product which provides a unique experience while also being superior and unique.
Why do you need UX Competitive Analysis?
Users are looking for simple, efficient user experiences that help them achieve their goals without wasting time. 
If they are not getting the experience they want, they will move on to the competitor's product without hesitation.
The UX competitive analysis enables businesses to see what they do better than their competitors and where they might be missing some crucial features. That could help them fulfill the needs of underserved consumers.
To Identify Market Gaps

Be aware of both strengths and weaknesses of your competition

To know your position and focus your efforts on a very target market

Develop a plan of action to build a new product or a feature

Discover how competitors solve similar usability problems

To help you solve usability issues

Learn about failures and the way to avoid them

Learn about trends and innovation

Support user and research

To understand wherever your product or service stands within the market
Types of Competitors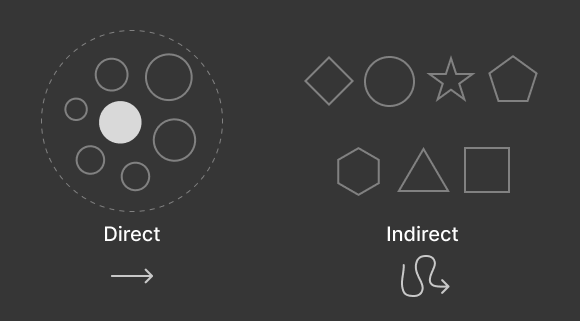 Find and keep an eye on your competitors and perform a heuristic evaluation of their entire customer experience. It is crucial for attaining sustained growth in your business.
You must first identify the top 3 to 5 competitors in your market. 
Their influence will be a crucial element that affects your business as they compete with you and join the fight for users' attention.
There are two types of competitors for us to consider:
1. Direct Competitors serve the same product and services at a similar price to fulfill customer demands.
They can help you improve your product and pricing to increase brand preference.
Eg: Mc Donalds vs Burger King vs Subway vs KFC
2. Indirect Competitors offer different or comparable products and services to meet similar demands.
They help you may reveal new business prospects and opportunities
Eg: Instagram vs LinkedIn vs Twitter vs Snapchat
UX Competitive Analysis Research Methods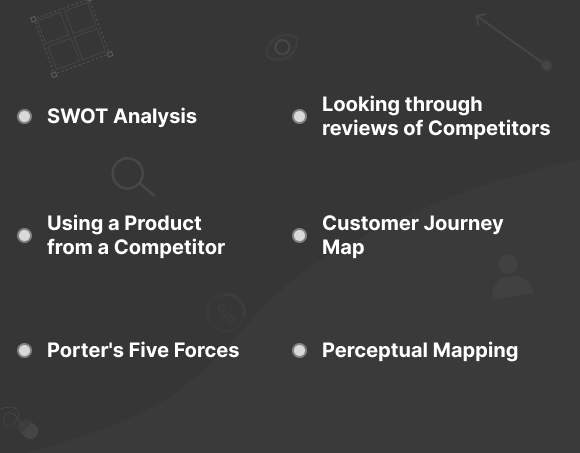 1. SWOT Analysis
SWOT Analysis is used for evaluating and studying internal Strengths and Weaknesses as well as external Opportunities and Threats that have an impact on your products and design decisions.
2. Using a Product from a Competitor
One of the easiest ways to gather information from your competitors is to use their products.
You can become a customer of the product and accomplish tasks using it.
Examine the overall design, colors, and typography of the UI

Which touchpoints are your competitors using?

Did you experience any pain points?

Is there anything your competitor does well or poorly that you should note?

In what ways does your competitor excel and fail?
3. Porter's Five Forces
Porter's five forces is a framework that helps businesses to determine the degree of competition within the industry.
These are the five major elements that have a direct impact on how much competition your company faces in the market.
1. Competitive Rivalry: How fiercely businesses compete in a market.
2. Supplier Power: A supplier's capacity to raise the cost of your inputs and raw materials.
3. Buyer Power: How effectively your customers can lower your rates?
4. Threat of Substitution: How your products and services can be replaced by others?
5. Threat of New Entry: How quickly new rivals can enter the market.
4. Looking through reviews of Competitors
User testimonials can teach you what customers appreciate and do not like about your competition.
These are few excellent resources for going through reviews:
Online Marketplace Reviews

Social Media Feedback

App Store Reviews

Yelp

Capterra

Trustpilot
Analyse reviews carefully for both positive and negative trends, and then compare these trends to the results of your prior research. 
These reviews enable designers to spot gaps that rivals are not addressing.
5. Customer Journey Map
User journey maps show customers' workflows from beginning to end. The user experience can be improved, and conversions can be raised, by optimizing the entire process.
The secrets of successful competitors' may be revealed by comparing your user experiences to theirs.
You may observe that your competitors use fewer steps or creative CTA positioning, for example, to increase customer conversion.
6. Perceptual Mapping
Perceptual mapping reveals how consumers evaluate a product in terms of its quality-to-price ratio.
The main goal of the tool is to portray customers' perceptions of your product in a "price-quality" context as compared to the competition.
Understanding what customers think about the quality of your product.
Whether they believe in the relationship between price and quality to be reasonable.
It can be done with the aid of a perceptual map.
Conclusion
In a world, where creative minds are inventing something new all the time, there's no need to reinvent the wheel or launch into uncharted territory. You can study the competitive landscape before starting to work on a product's design.
UX competitive analysis can dramatically improve conversion rates and customer satisfaction with your app or website.
It also helps you uncover valuable opportunities. Create a superior product, and stand out from the competition.