As designers, we often try to create products that are useful, engaging and easy to use. But for doing so keeping the user at ease is the key.
So how do we make the user at ease?
Well, the answer lies in building a better microcopy for your product.
Here are 5 tried & tested tips for writing better microcopy.
Try to communicate
Have you ever wondered how some people have a joyful personality & you love hanging with them. It's because they are good at communicating there thoughts.
Same goes with our product, displaying a stiff tone across the journey is the worst thing that you can do to your product.
Try to communicate as if you're on a coffee break with the user to make it more lively and fun.

Keep it specific & succinct
Try to keep your message straightforward and concise. User tends to read short messages rather than big chunk of content. Also, it makes easier to scan the data.

While writing, don't waste words. Narrow it down to the least number of words. Make sure to be specific with CTA's and labels. Avoid the usage of generic words.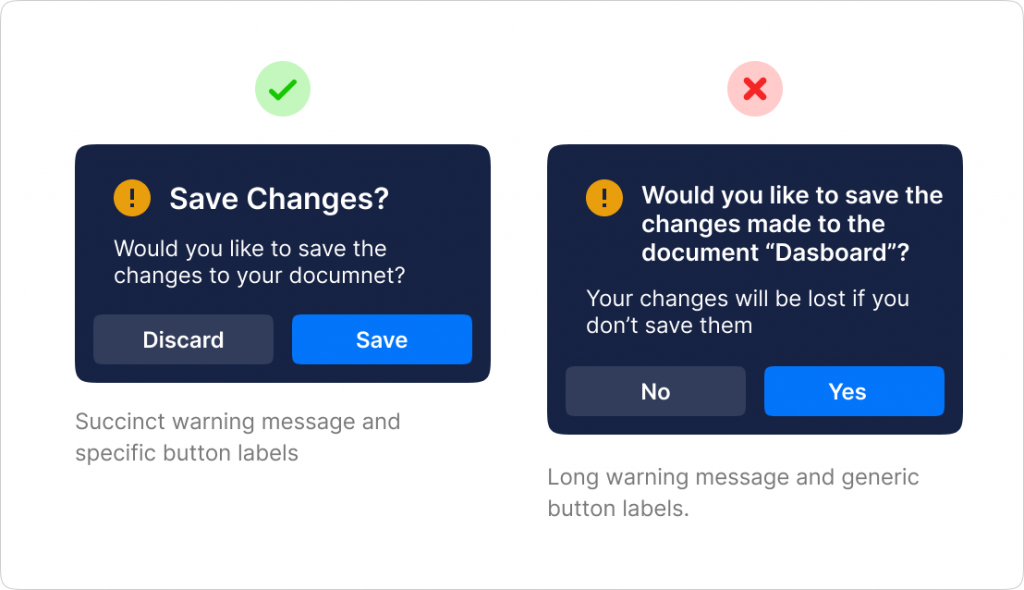 Use the active voice.
The impact of active voice is stronger and is easier to understand than the passive voice. Active voice starts with subject and ends with focus on what caused the action whereas passive voice ends with subject.

To catch up with passive voice try adding "by vampires" at the end of the sentence. If it makes sense, then you're using passive voice.

Be witty
Ever got amazed by sarcasm? That's because at that very moment you weren't expecting that.
Similarly being witty(if it suits your brand) in your copy makes you stand out from the crowd. You're providing something refreshing to your user, due to which you're more likely to remember.
Initiate with an action verb
Use of flat labels or statement makes your product monotonous in nature. You don't want that, right?
Try initiating with an action verb. By doing so you're providing the final goal upfront. This practice makes your microcopy more engaging and useful.