"Blender 3D"
Blender 3D is a powerful free and open-source modeling software package.
It supports a 3D pipeline used for modeling, rigging, rendering, compositing, and motion tracking.
The blender tool creates 3D landscape objects, animations, and game designs. Blender uses three-dimensional geometry to create high-quality images and animations.
What does "Blender 3D" do?
Blender produces attractive 3D models for video games, 3D printing, home design, and other things. You can use Blender to create beautiful 3D models.
Important 3D Blender Features
Blender Tool is a 3D computer graphics software that includes all of the tools needed to produce animated films, visual effects, arts, 3D printing models, and interactive 3D game models, all of these are free to use.
Grease Pencil
A Grease Pencil is a blender object that allows you to sketch in three-dimensional space and is used to create a 2D animation.
Modeling and mapping.
Modeling is made up of three parts: models, materials, and lighting that recreate the appearance of real-world things.
Mapping is a method for wrapping a 3D image around a 3D object. It saves time and simplifies texture mapping.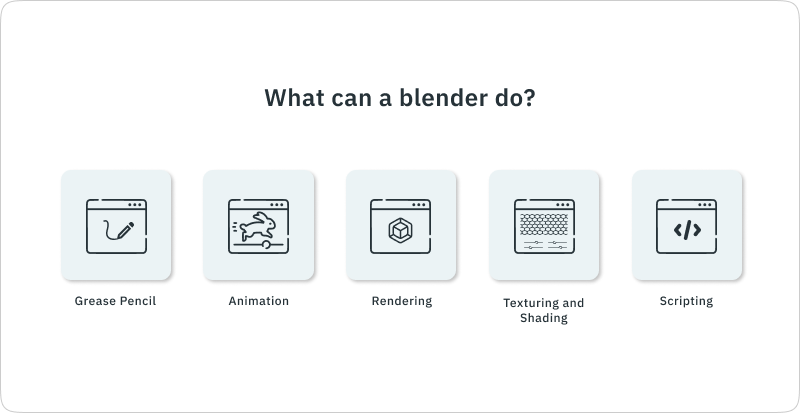 Animation
It is the method of assigning movement to a figure using keys in nonlinear animation or by automatic walk cycles.
Animation editor is offered where we can instantly view the animation on rendered screen with fast rigging options.
Simulation
Any natural simulation, such as fire, smoke, fluids, hair, cloth, rigid bodies, and particles, gives the frame to a genuine sense.
Rendering
A much-needed task in Blender 3D is rendering, the process by which you create a two-dimensional or three-dimensional image from a model using application tools.
Hence, it is the final step in the creation of a 2D image or animation from a prepared scenario.
Texturing
In Blender 3D, a texture is a bitmap picture, typically in the form of a JPG or PNG, that provides detailed and complicated properties.
This image is project onto the three-dimensional space of your 3D object.
Scripting
The blender includes a full scripting array of extensions with quick on and off modes.
Which aid in the generation of trees, terrains, clouds, and a few regular probes, as well as a 3D printing Toolbox. Multiple file formats can be import and export.
Rise Of Blender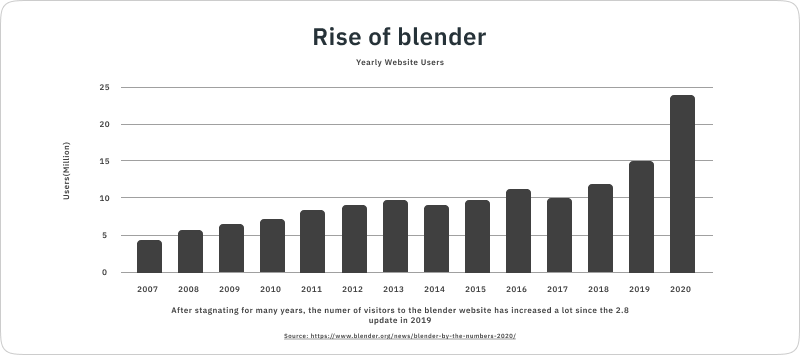 A freelancer using Blender and a healthy collection of addons will have an incredibly powerful software suite at their disposal.
As of now, Blender is ever-growing, and you'll be able to build a solid foundation as a freelancer or small studio.
Who Uses "Blender 3D"
The Blender tool is use to build 3D scenarios and models for a variety of industries, including animation and game design.
Blender is a free 3D open software that allows us to add probes, textures, lighting, color corrections and balance, effects, rigging, and rendering, among other things, to the projects.
"Blender 3D" uses in many ways such as in-game development, articular design, virtual reality, and so on.
In-Game Development
When it comes to game development, blenders are heavily in demand as it is open source. It is a 3D package that can do everything smoothly.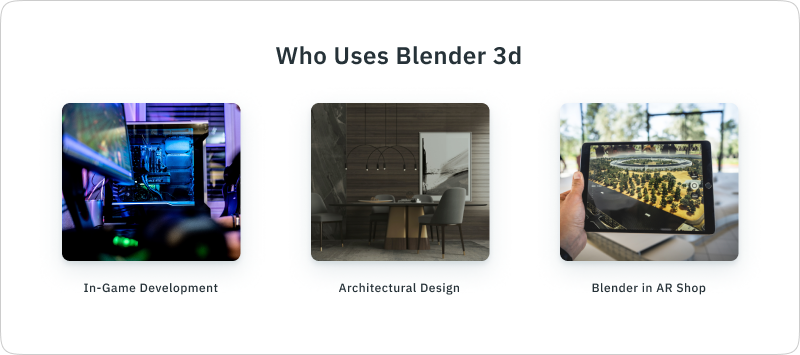 Architectural Design
Blenders can also be use to create architectural renderings.
You can use a render of your plan to show clients how you create floor and building plans to accurate proportions.
Blender In AR shop
We can use Blender for AR (Augmented Reality) to work on a 3D model, whether it's static or animated, and correctly select all the features that make a model suitable for mobiles, such as polygon count, and file formats.
Advantages of "Blender 3D"
Presets and templates aid in the creation of a model that is quick and straightforward to unwrap for texturing.
Stimulation and keying in accordance with the animation movement for the time frame can be completed in less time.
When generating engineering new design workflow presentations, the preview option is provided.
The Community Around Blender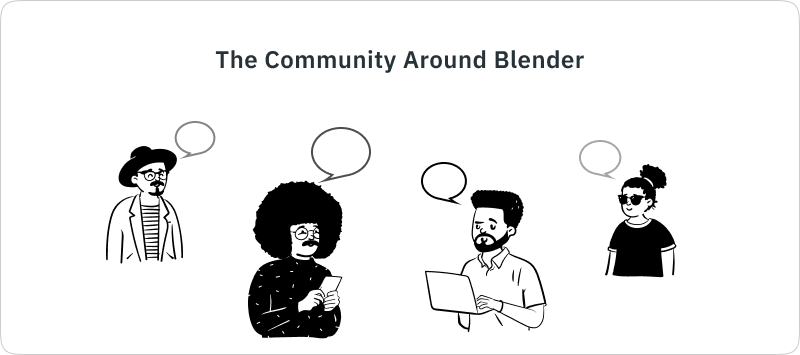 Blender 3D has a strong development, artist, and designer community that is always ready to help. It is a free 3D modeling program that can run on Mac, Windows, and Linux.
Blender 3D is very much in demand for modeling. It is an excellent pick that offers powerful and excellent support to designers.
Conclusion
In conclusion, Blender is a great place to start if you're new to 3D. It's completely free and allows you to practice modeling, rigging, animation, simulation, rendering, video editing, 3D printing, motion tracking, and other 3D techniques.
Moreover, Blender has a lot of capabilities, but it can also be expanded via scripting and add-ons.
Hence, this is all about Blender in 3D modeling. By using this tool you make your vision into reality.
Blender is mainly used by professionals in many factors. This tool creates animated films, visual effects, and 3D-printed models.
Thank you for taking the time to read this blog. If you have any questions or concerns, please contact us at Webkul Support System.