What is "Blender 3D"
Blender is a computer graphics software that includes all of the tools needed to produce and alter animated films, visual effects, arts, 3D printing models, interactive 3D game models, and all of this for free.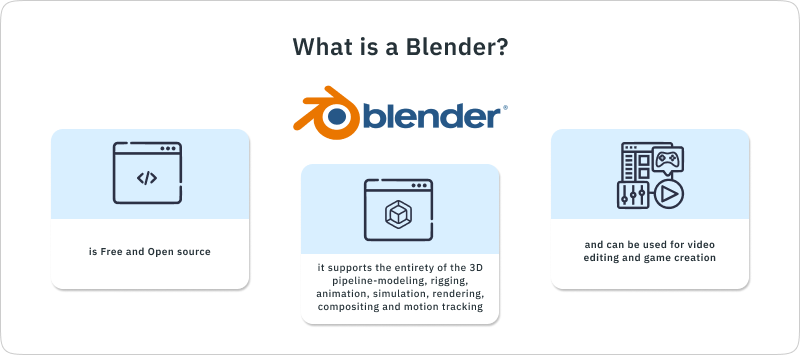 This appears to be a good choice as it is specifically designed for 3D printing. Its primary application is 3D animation.
Why Blender 3D Is Best?
This is a perfect choice for small studios. It is a 3D application that is well-liked and preferred by experts.
Hence, it has the unique advantage of having Python as the programming language for 3D animation.
A solid modeling base is supported by robust texturing, rigging, animation, and lighting, among tools for complete 3D development.
This software is excellent whether you merely want to work with static models or want to venture into the world of animation.
Moreover, Blender has been utilized in the film business for a while and is currently becoming more popular. This is used as the primary tool for NextGen, a Netflix Original film, as well as for rendering.
How to utilize Blender 3D capabilities in the success of an e-commerce store
For today's e-commerce,3D modeling software is a must-have.
A merchant can provide customers with a graphical 3D product representation that is interactive using 3D imagery.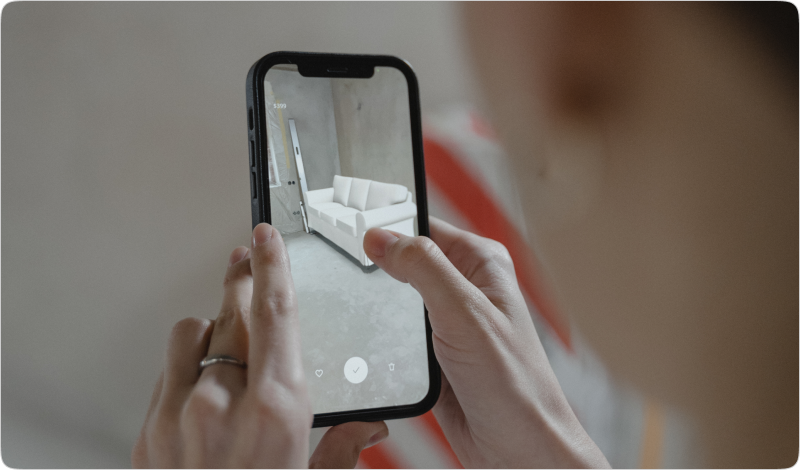 It uses augmented reality, virtual reality, film, animation, gaming, interior design, and architecture, all use 3D modeling is very much in use nowadays in various fields, for example, BMW 3 Promo, and The Cup.

Blender In AR
Any 3D modeling software will give you the tools you need to correctly build and export 3D models for usage in augmented reality experiences for mobile applications.
Hence, Blender 3D is one of them, and the fact that it is free software makes it a popular choice for creatives who do not want to invest in more expensive alternatives.
Blender In Virtual reality
Virtual reality is currently the most important emphasis in the real estate industry.
It offers an immersive experience that allows prospective buyers to immerse themselves in the home or apartment they are contemplating.
Once there, customers will be able to explore a property from every angle and make on-the-fly changes to their visual choices.
Blender 3D File Formats
This software is compatible with many file formats, allowing it to be used for a wide range of applications. Find out more about Blender and the different file formats it supports.
Blender (.blend)
.blend has its own binary format that preserves the whole state of the suite, including the current scene, animations, extensions, and so on.

And, it can export 3D files in various formats like Collada (.dae), Alembic (.abc), Universal Scene Description (.usd,.usdc,.USDA),.fbx, etc.
Rendering
The process of converting a three-dimensional scene into a two-dimensional image is known as rendering.
In addition, this offers three rendering engines at different power levels.
Blender provides interactive 3D viewport rendering for all render engines, allowing rapid lighting and shading iteration.
After that, the final high-quality image or animation can be generated as an output.
It is the process of converting a 3D scene into a 2D image.
It has three render engines, each with its different strengths:
Eevee is a real-time renderer that is physically based.
Cycles is a path tracer that is physically based.
Layout, modeling, and previewing are all done on the Workbench.
Eevee
Eevee is a real-time render engine based on OpenGL and focuses on speed and interactivity while producing PBR materials.
Moreover, one of Eevee's most notable features is its lightning-fast render time.
Using the same scene and technology, it can be up to 12 times quicker than Cycles.
It provides all the features of the modern rendering engines without the limitations of long render times.
Cycle
Blender's physically-based path tracer for commercial rendering is Cycle.
Hence, It is meant to deliver physically-based results right out of the box, while still providing creative control and adjustable shading nodes for production needs.
Blender 3D system requirements
It is cross-platform, which means you can use it on computers running Windows, Mac OS X, or Linux. This can be downloaded from the Blender website.
Hence, The minimum requirements are easy to meet for all the power it gives you over 3D. Here are the basics:
64-bit dual-core 2Ghz CPU with SSE2 support
4 GB RAM
1280×768 display
Graphics card with 1 GB RAM, OpenGL 3.3
The optimal machine for Blender would have these features:
64-bit eight-core CPU
32 GB RAM
Full HD displays
Graphics card with +12 GB RAM
Now that you know if Blender will work on your computer and where you can get a copy, let's look at some things you can do with it.
Conclusion
In conclusion, Blender is a great tool to start with if you're new to 3D. It's completely free and allows you to practice modeling, rigging, animation, simulation, rendering, video editing, 3D printing, motion tracking, and other 3D techniques.
That's all about Blender in 3D modeling, used by more and more professionals in many industries.
Thank you for taking the time to read this blog. If you have any questions or concerns, please contact us at Webkul Support System.